Just an update on yesterdays protest. We promised relentless consistency and that we were not going away until we have right and proper owners at our great club.
We need an ownership structure that uses its own business assets to strengthen the value of the club and not an ownership structure that uses the club to strengthen its own business assets.
Thousands marched from Media City BBC Dockyard in what was an unprecedented protest at the beginning of a campaign. This speaks volumes to us, new season and new manager bounce along with new signings (if you can call them that) and the fanbase is angrier and more determined than ever.
Thank you to everyone who also DM'd us messages of support, its appreciated. We would like to address one common question.
Get the game cancelled, storm the pitch!
The Liverpool game was a total one off that will never be repeated. It was a fusion of the times (ESL and coming out of lockdown) and an element of luck how this all happened. We are doing things differently. We want to build sustained awareness, support and pressure. Increase momentum. Gain the trust of our fanbase (if we say we are doing something we do). We have had these one off shock and awe protests in the past and in reality whats changed?
The 1958 will always be about peaceful and legal protests along with other streams like the digital campaigns, letters to government, premier league and financial interests. We will always look for new angles. We are not thugs or hooligans but passionate United fans with generations of support ripping through our families. We believe that love will always beat greed.
We have more work to do:
It is clear we have more work to do around taking the noise and passion against the ownership we have outside the ground into the ground.
We have work to do around spreading the word outside of social media to gain reach.
We have more work to do educating and stirring a fanbase, many of whom have given up.
We have more work to do around uniting factions of our fanbase and putting any differences aside.
We have more work to do in gaining the trust of certain areas of our fanbase. If we say we are going to do something, we do it. We are all in this together.
All this we will happily take on and provide the passion, energy and ideas to do this. We will never bow to the Glazers or have our backsides tickle. We have no agendas, affiliations or self interests with the club. This will always be the case, please trust us on this.
So, with that being said regarding yesterdays protest, thanks to.
Every fan who attended even if you was unaware until you reached the ground. We hope you join us proactively next time.
The fans who carried the banners and flag.
All our brothers and sisters young and old who attended the protest yesterday.
Thank you!❤️🇾🇪 Together we are louder, together we are stronger.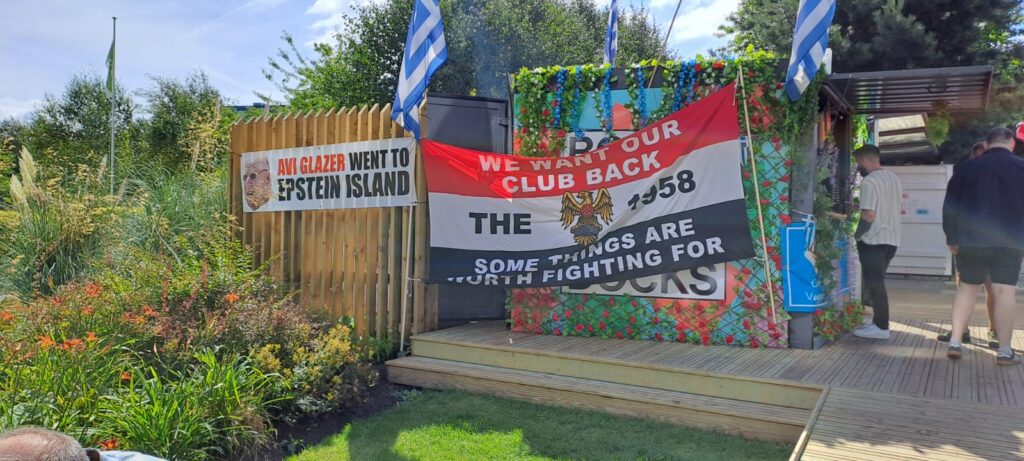 We are on the right side of history in reclaiming our club and we will not stop.
We want our club back.
Some things are worth fighting for…
The 1958🇾🇪