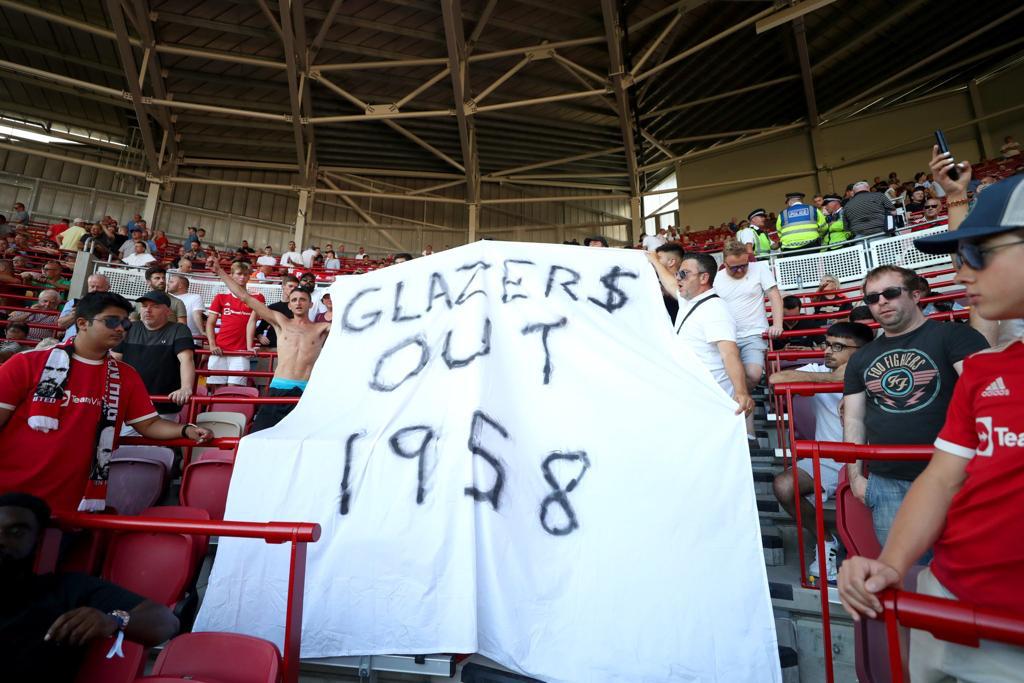 WE BRING THE HEAT AND NOISE OUTSIDE THE GROUND AND TAKE IT INSIDE
This week has been a total embarrassment for the club and the owners doing what they can to censor the fanbase.
Requesting Sky to limit protest coverage Using canned United chants for the Casmeiro reveal to cover the fans real feelings.
Pressured social media outlets to question and dampen hashtag campaigns.
The biggest embarrassment for the club was removing Glazers Out flags from the fans in the stadium before kick off. This included fans in the disabled section. Disgusting!
This all points to one conclusion. The protests are working! The Glazers don't want the world (and sponsors) to see the fans real sentiment. Their time is up!
So we call on all United fans, match going and the non match going fan base (watch this space) to bring the passion and energy both outside and inside the ground. Let's see if the club can edit out real fan sentiment when it's visual and audible all around the stadium!
GLAZERS OUT FLAGS & CHANTS ON THE FORECOURT AND ALL AROUND THE STADIUM!
Details:
3pm we meet at the Trinity. A loud and visual protest. Flags & Banners – GLAZERS OUT!
Then for the match going fans we move into the stadium and show our flags and banners to the world during the game!
The club cannot stop fans taking protest flags and banners into the ground as long as they meet a certain requirement (details below).
WE have a right to protest! WE have a right to make our feelings known. WE have a right to show the world we want ownership change!
Flags can be less than 2m x 1m in size without a fire certificate.
Home made flags/banners/bed sheets or pillow cases within this size limit are permitted all around the ground.
So in the run up to the game. Please send us pictures of your flags/banners/bed sheets/pillow cases and we will share on our accounts and website.
You can email us at contac[email protected] use our contact us form or post on our timelines.
We will share on our account. We will continue to share more details in the run up to Arsenal.
Until then get your banners ready (bedsheets, pillowcases, anything). Any questions contact us for advice.