On Thursday night the 1958 along with TRA made a statement of unity against our ownership. We promised back in April that we would work tirelessly behind the scenes to achieve this in an attempt to unite our fanbase. We have reached common ground, we have a collaboration with joint goals and an agreed trust and partnership going forward. This is a massive step in the right direction.
We can now achieve so much more together on our joint goals and it does not stop here. We said we would be scaling and evolving. More news to follow, we have not finished yet. We will unite this broken fanbase for a common goal against a common enemy.
An enemy of our club, our dreams, our history, our traditions and our memories of past generations of family and friends.
Also, don't forget this isn't just about the match going fanbase. What else have we achieved over the last few months:
We released our "Join the Fight Pack" for our global fanbase to get involved in protests and actions against our ownership. The link is here https://the1958.net/2022/09/02/join-the-fight-pack/
We are still in discussions with other groups and areas of the fanbase. This will become abundantly clear in the next few weeks where this is going.
We will continue to build on our strong relationship with TRA. Remember they are still them and we are still us and this has taken a lot of dialogue and building of trust to get us to this point. Remember The 1958 started from nothing in March.
We will continue to collaborate with our colleagues in the US and across other influential online groups who show a track record and integrity against this ownership.
It's not just the club that is broken, 17 years of Glazer ownership has broken our fanbase which was by design to serve their purpose. Our fanbase is in bits and we want to heal that.
Disclaimer: We have automation in place to block trolls, bots and burners on our account. Like we said on one of our very first posts. You will be blocked. You are either part of the problem or part of the solution. Again, the next phase of our plans will be revealed soon.
So, lets move onto the game which was a tale of two halves but the story was the culmination of months of dialogue and The 1958 and TRA collaborating together in the battle against this rotten ownership.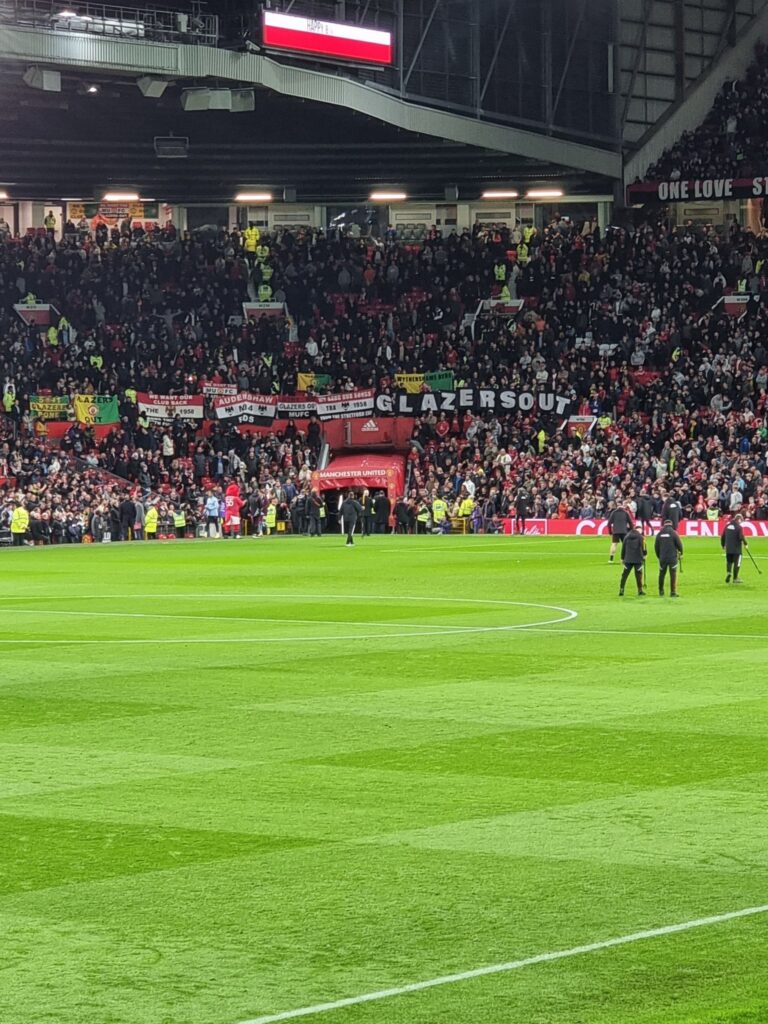 The banners were in the ground early and up before kick off. We did take these down during the minutes silence for remembrance Sunday.
The chants were audible throughout the game and also involving the rest of the ground with "Stand up if you hate Glazers" which are followed throughout Old Trafford.
Also a new chant was out last night for our Argentinian butcher 🔪🎵
Tip Toe

Through the Kop end

With a cleaver

He's from Argentina 🇾🇪
It won't be too everyones liking but want chant ever is?
Anyway, like we promised after the Newcastle protest we will be evolving into our next phase. This will be announced in the coming weeks. This will start to shake things up and highlight who is on the right side of history and who is not.
We will be releasing Project Queens Gambit in the next few weeks and others will follow. We said they are a riddle wrapped in a mystery inside an enigma and we will work them out. Time to start removing some of those puzzles.
Also a reminder that City will be our next protest so plans will be released heading into this game.
Keep believing
The 1958 🇾🇪